From tea bags to silk wraps, we've got you covered
The dreaded broken nail. First thing first: It's important to take proper care to prevent infection and treat the wound. That's where we come in! We reached out to Dr. Dana Stern, a dermatologist specializing in nail care, to discuss what exactly you should be doing to care for your broken nails. Ahead, Dr. Stern, MD, shares her best tips and tricks for combatting broken nails. Plus, we included some of the best YouTube tutorials for the different methods of broken nail care.
1. The Tea Bag Method
1: Clip the broken nail as close to the fingertip as you can.
 2: Using a glass or crystal file, gently file any snags, but be sure to avoid the split itself.
3: Trim a tea bag or paper coffee filter to the size of a small patch that can cover the break in the nail.
4: Paint the broken nail with a generous coat of clear polish.
5: While the clear polish is tacky, gently place the trimmed tea bag/coffee filter over the broken part of the nail (It may be helpful to use a tweezer to hold and apply the tea bag segment).
6: Allow it to dry. Then cover the nail with one or two more coats of clear polish.
7: After the clear polish has dried you can polish with the color of your choice to camouflage the tea bag.
2. Mending With Glue
Dr. Stern, MD, is not a fan of nail glue as most contain acrylates. "Acrylates are chemicals that commonly cause irritant and allergic dermatitis," explains Dr. Stern. Acrylates are common culprits of these skin reactions, so much so they were named Contact Allergen of the year in 2012 by The American Contact Dermatitis Society. Who knew there was such a thing?
If you think glue is the only option for you, please proceed with caution and make sure you don't have any allergies.
3. The Fake Out
Au natural is great, but when it comes to breakage sometimes you've got to fake it until you make it. This tutorial will show you how to rock a full fake nail and make it look natural.
4. The Gel Silk Method
When in doubt, grab a silk wrap. The silk wrap will bind to the nail like a band-aid or first aid wrap. Top with a coat of gel nail polish to reaffirm the bandage and provide extra protection. It's that simple. Don't believe us, watch this video.
5. Preventative Tips and Products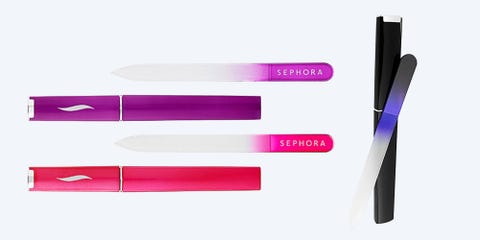 It's time to cut your nails! "Keep nails shorter," Dr. Stern advises. "Shorter nails are less likely to split and snag." Also, invest in some smart nail care tools like a glass or crystal file. "Glass files don't cause the microscopic tears in the nail that typical emery boards do," Dr. Stern adds.
How useful was this post?
Click on a star to rate it!
Average rating / 5. Vote count:
We are sorry that this post was not useful for you!
Let us improve this post!
Thanks for your feedback!