By MetService Meteorologist Claire Flynn
Please note: all times listed below are in New Zealand local time.
As of 1pm today, TC Gita was a Category 3 Tropical Cyclone, with estimated wind speeds of 117 km/hr near the centre, and a central pressure of 970 hPa. It was located over the waters south of New Caledonia at 24.5S, 166.6E, as shown in the latest forecast track map issued by RSMC Nadi in the map below: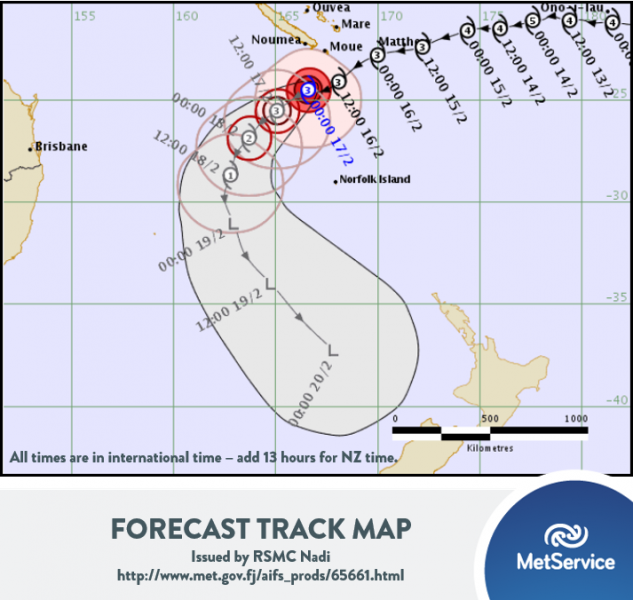 Future track
TC Gita is forecast to move south of latitude 25S this afternoon. When this happens, responsibility for issuing warnings associated with this Tropical Cyclone will switch from RSMC Nadi in Fiji, to the New Zealand MetService. Up until now, the forecast track maps you have seen in our updates and in the news have been issued by Fiji. After 7pm this evening, Tropical Cyclone Gita becomes MetService's responsibility, and our tropical cyclone forecasters in New Zealand will start issuing the updated forecast track maps. The next track map will be issued by 9pm this evening, and you will be able to find it here once it has been issued.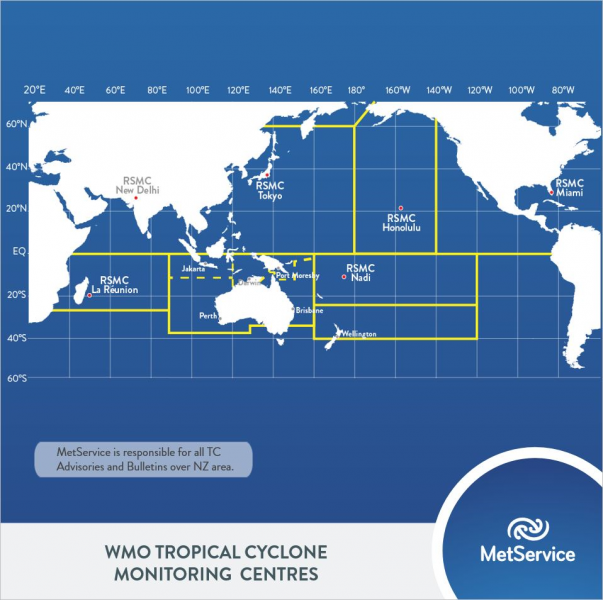 Areas of responsibility for Tropical Cyclone Bulletins and Advisories.
Looking ahead, over the next few days, TC Gita is expected to curve southwards and gradually weaken to a Category 2, and then a Category 1 Tropical Cyclone, before undergoing a transition to an extra-tropical cyclone and heading towards New Zealand.
When a tropical cyclone undergoes a transition to an extra-tropical cyclone, it does not necessarily mean that the storm has weakened or been downgraded. Instead, it means that it has transformed into a different kind of weather system, and can still bring significant severe weather to New Zealand. This is the case with Tropical Cyclone Gita. As it undergoes its transition, it will be renamed Cyclone Gita (dropping the 'Tropical'), and head towards New Zealand. You can read more about extra-tropical transition here.
After Gita transitions into an extra-tropical cyclone, it is expected to head towards New Zealand, crossing the country on Tuesday or early Wednesday. The map below shows a range of possible tracks Cyclone Gita could take over New Zealand.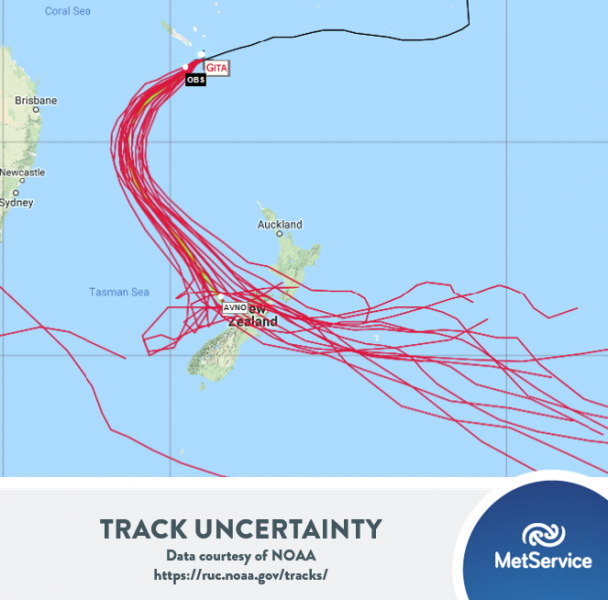 Impact on New Zealand
Weather models are currently suggesting that the centre of Cyclone Gita will cross central New Zealand during Tuesday and Wednesday. It is likely to bring severe weather to a broad area of New Zealand from Canterbury northwards. Cyclone Gita is likely to bring heavy rain, with the potential for rapidly rising streams and rivers and flooding. People should be aware of the potential for coastal inundation, especially where high waves, low atmospheric pressure and strong onshore winds come together. Finally, Cyclone Gita is likely to bring severe gales, so people are advised to secure property and items that may be blown away by strong winds. The Severe Weather Outlook below shows areas that are at risk of heavy rain and severe gales: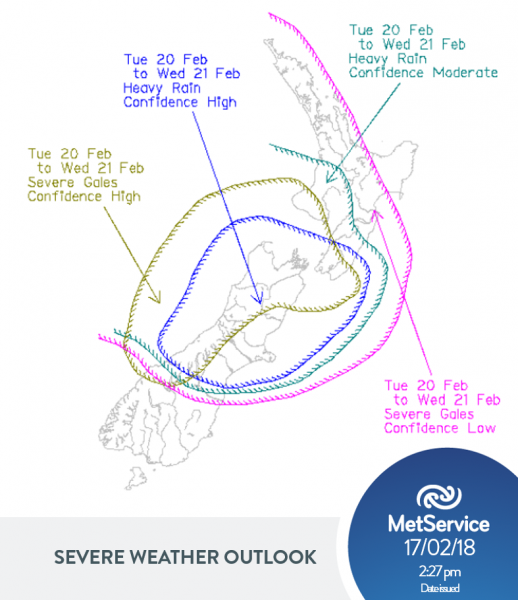 Although there is still some uncertainty regarding exactly where the cyclone will cross New Zealand, it is likely that its effects will be widely felt, and it has the potential to cause significant damage. Severe Weather Watches and Warnings will be issued in the coming days for the areas that are most at risk, as more information comes to hand. The first issue of Severe Weather Watches for New Zealand is likely to be released on Sunday morning. All severe weather information for New Zealand can be found on the MetService website.
MetService advises people to take time over the next couple of days to prepare for potential severe weather. Civil Defence's Get Ready Get Thru website is a very helpful place to start. As always, MetService is working closely with regional councils and emergency management teams, and recommends people follow advice from their local Civil Defence and council.
Our forecasters work around the clock monitoring the weather, to ensure that accurate and timely information is available to the public, so that people can be well informed and prepared. We will continue to issue updates about Cyclone Gita as it nears New Zealand, and you can find the latest information on the MetService website, NZ Weather app, by email (subscribe here), on social media, and also video updates. Further blog updates will be issued in the coming days.
For the history of this system and more about TC Gita, see yesterday's blog post.
Source link