Tropical Cyclone Hola Update – 11/3/2018
By Meteorologists, Andy Best and April Clark
This blog is a look at what has changed from yesterdays update which can be found at  https://blog.metservice.com/node/1179 on this blog site. You can find further information on the Tropical cyclone page at http://bit.ly/TropicalCycloneActivity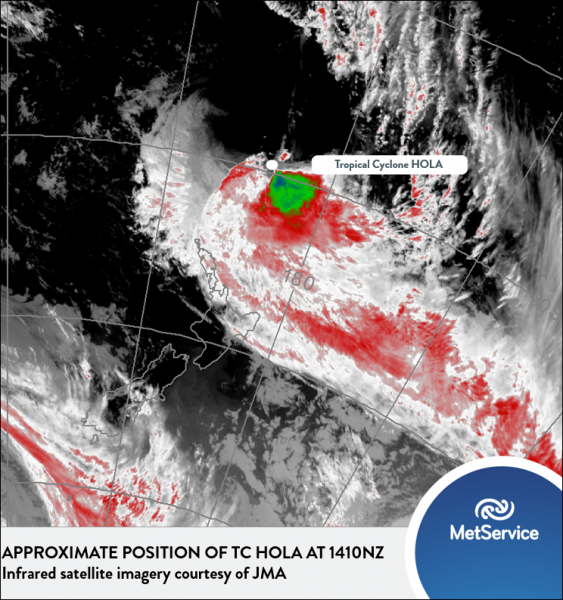 CURRENT STATUS OF CYCLONE ACTIVITY
Tropical Cyclone Hola (971hPa, Category 3) was analysed near 21.4S 169.0E (near the Loyalty Islands of New Caledonia) at 1300 New Zealand time this afternoon and is moving southeast at 14 knots.
Tropical Cyclone Hola is expected to track southwards and start to gradually weaken as well as move out of the tropics on Sunday.The system is expected to undergo extra-tropical transition as it approaches 30S later on Sunday.
Cyclone Hola is expected to be extra-tropical and track close to the upper North Island of New Zealand on Monday.
Current models are predicting Cyclone Hola to swiftly skirt the northeast of the North Island during Monday, bringing Severe Weather to eastern parts of the upper North Island. Severe Weather Watches and Warnings have now been issued for Monday, with rain accumulations of as much as 150mm and wind gusts of up to 130km/h forecast for eastern regions from Northland to northern Hawkes Bay. You can find the latest information on the Severe Weather and impacts at http://bit.ly/AllWarnings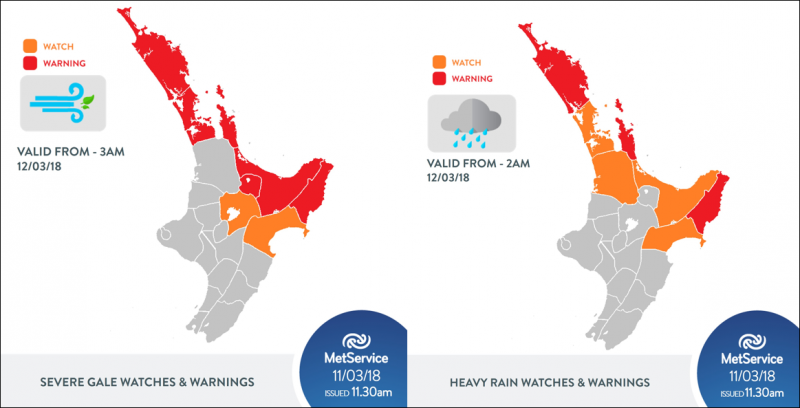 Hola will bring severe gale force winds and heavy rain to northern and eastern parts of the North Island during Monday and the early hours of Tuesday, and could cause coastal inundation for eastern areas from Northland to western Bay of Plenty including Gisborne as well. The heaviest rain is expected in Northland, Great Barrier Island, Coromandel Peninsula and Gisborne, where a heavy rain Warning is now in force. In addition, gale southeasterlies are expected to develop from early Monday morning, then changing southwesterly during Monday afternoon and evening. The strongest winds are expected in Northland, Auckland, Coromandel Peninsula, Bay of Plenty and Gisborne, and a strong wind Warning is in force for these areas.
This system is compact but fast moving, meaning that those expected to be impacted should expect weather conditions to change rapidly, so keeping updated with the forecast, Civil Defence and New Zealand Transport Agency is key.
Another low is located near 6.7S 160.1E near the Solomon Islands at 1300 New Zealand time today. This low is expected to track into the northern Coral Sea over the next few days with the risk of it developing into a tropical cyclone being LOW, but increasing to MODERATE from Tuesday next week.
Source link